Fault Tolerance is the property that enables a system to continue operating properly in the event of the failure of some of its components. If its operating quality decreases at all, the decrease is proportional to the severity of the failure, as compared to a naively-designed system in which even a small failure can cause total breakdown.
Achieving near-zero downtime is for mission-critical businesses that cannot afford a single moment of failure. Pacific DataCom partners with NEC to offer its Fault Tolerant (FT) servers to address planned and unplanned downtime for your most important applications. The FT servers deliver exceptional uptime through dual modular hardware redundancy and help maximize your business outcomes. The servers provide continuous availability through hardware redundancy in all components: Processors, memory, motherboards, I/O, hard disk drives, and cooling fans.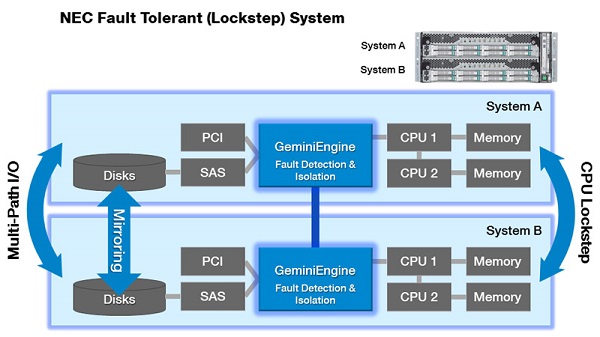 NEC's FT servers are designed with innovative technology that enables continuous availability for a solution with up to 99.999% system uptime while providing data integrity and exceptional performance.
The heart of the dual-modular redundancy architecture for the FT server is its GeminiEngine™ chipset, a feature specially engineered to synchronize redundant components and prevent CPU performance degradation due to hardware redundancy control. The GeminiEngine feature enables "lockstep" processing, allowing the redundant components to process the same instructions simultaneously, and thereby eliminating potential failure points for continuous processing.
The Rapid Disk Resync (RDR) is a disk synchronization technology that enables the disks to be resynchronized in a short period of time when their mirror has been broken due to a system failure or system maintenance. The RDR resumes disk mirroring by performing quick copies of only data changes, rather than entire disk data, thereby minimizing the time that the system runs with non-redundant disk system.