Stop Bad Cyber Behaviors, Protect Employees, Critical Data and IP
Web Security
Your business and data are under constant attack, yet traditional filtering and antivirus products no longer provide sufficient protection. Forcepoint Web Security provides advanced, real-time threat defense to stop data loss. Forcepoint Web Security provides robust protection through content-aware defenses, cloud app discovery and risk reporting – reducing threats to sensitive data for both on-premise and roaming users.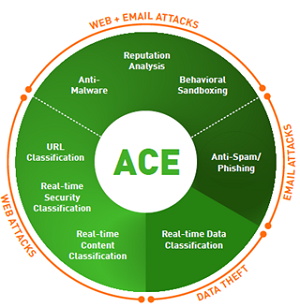 Email Security
Today's attempts to compromise email channels have evolved from simple spam and phishing attempts to more advanced threats like ransomware. Forcepoint Email Security gives you the security you need by protecting you against multi-stage advanced threats that exploit email to penetrate your IT environment.
Forcepoint Email Security applies real-time behavioral sandboxing, enterprise-grade DLP and other advanced defense technologies to prevent leaks of sensitive information, empowering your workers — in the office or on the road — as you safely adopt technologies like Microsoft Office 365. In addition, detect phishing and secure email wherever users need access, even on mobile devices, through features like Phishing Education and URL Wrapping.
Data Loss Prevention
Global brands and market innovators must protect their business-critical, sensitive data against accidental data loss, compromised users and malicious insiders. Forcepoint DLP provides security focused on people's interaction with data, including in creation, storage, email, webmail, personal devices and cloud applications.
Forcepoint DLP is recognized as a market leader by industry analysts for its robust coverage of data discovery, endpoint control, network enforcement and extension into cloud applications. Forcepoint DLP is instrumental for organizations with an obligation to meet regulatory and industry compliance requirements, including the EU General Data Protection Regulation (GDPR).

Web Filtering
Forcepoint URL Filtering is the industry's most effective, continually up-to-date web filtering solution. Forcepoint URL Filtering collects and analyzes up to 5 billion incidents every day (from over 155 countries), producing updated threat analytics for Forcepoint solutions at up to 3.2 updates per second.
Forcepoint URL Filtering blocks web threats to reduce malware infections. Forcepoint URL Filtering is an easy-to-deploy, transparent filter and security solution that avoids the complexity of a proxy gateway. It's equipped with more than 120 security and filtering categories, hundreds of web application and protocol controls, and 60-plus reports with customization and role-based access.