Servers, storage and networks form the anchors of today's IT infrastructure. Companies around the world are constantly seeking to enhance this infrastructure. With 10Gb/40Gb Ethernet connectivity the new infrastructure requirements are distinctive and differ in many ways from the needs of traditional enterprise IT needs. The new environments often require unique computer density, power density and ultra low latency. 
High Frequency Trading
The race to zero is on and every microsecond of incremental latency is the difference between making a market and reading about it in tomorrow's paper. In your firm every microsecond counts, and is counted. Technologies that accelerate the movement of data create competitive advantage and drive increased market liquidity.
Arista Networks is the leader in building scalable high-performance and ultra-low-latency networks for today's data center and cloud computing environments.
Purpose-built hardware, and Arista EOS, the world's most advanced network operating system, provide single-binary system images across all platforms, maximum system uptime, stateful fault repair, Zero Touch Provisioning, Latency Analysis and a fully accessible Linux Shell. Arista Ethernet switches are the perfect network solution for your most demanding workloads.With native support for VMware Virtualization and hundreds of Linux applications integrated into hardware platforms designed to meet the stringent power and cooling requirements of today's most demanding data centers, Arista delivers the most efficient and best performing 10Gb / 40Gb Ethernet platforms.
Deploying the Arista High Frequency Trading Architecture, Pacific DataCom can help your firm increase competitive advantage by:
    -   Lowering the latency on trading applications
    -   Scalable and deterministic multicast messaging
    -   Partnering with industry leaders on the network interface, market data feed, and trading applications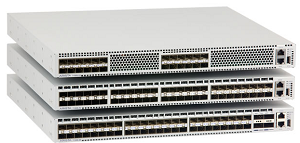 Arista 7150 Series: Ultra Low Latency Platform for low latency financial markets,
      HPC clusters and virtualized data centers.
To learn more about Arista Networks solutions, please visit http://www.aristanetworks.com.